Simple and Worry-Free Fire Protection Compliance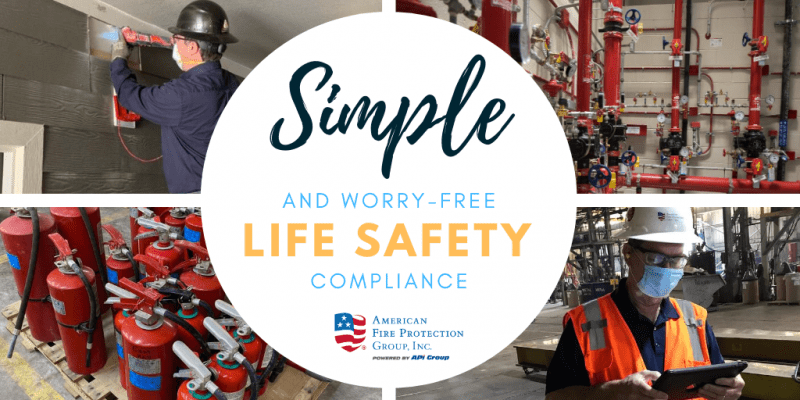 Simple and Worry-free Fire Protection Compliance – That is what AFPG delivers every single day – even during a national pandemic.
 The current environment has required all of us to change the way we do business. One thing that has not changed, however, is the requirement to have a licensed Life Safety company conduct annual, quarterly, and other code-compliant inspections of your Life Safety systems and equipment.
We care deeply about fire protection. Staying compliant with your inspections is equally as important now as it was before these uncertain times. If your facility is empty, there are still fire risks. And if you're an essential business that is currently open, your facility needs to be inspected and serviced to ensure the safety of your employees and your patrons.
AFPG remains open while we adhere to the guidelines set forth for essential businesses, and the safety of our team members, and customers. Because the COVID-19 pandemic continues to evolve, we have taken necessary precautions to prevent further spread of the virus. This includes committing to social distancing, limiting crew sizes, wearing face masks and gloves, and eliminating tool sharing.
AFPG provides the following fire protection services for all commercial businesses:
Inspections, Service, and Maintenance on the Life Safety Systems: 
Fire Sprinkler Systems
Fire Alarm Systems
Special Hazard Systems
Backflows
Fire Extinguishers
Kitchen Hood Systems
Emergency Exit Lights
Wireless Alarm Monitoring
Each service we offer can be aligned with your schedule, and with minimal disruption to your business.
As your fire protection service provider, our goal is to help bring you peace of mind. We are committed to doing our part in keeping our customers, our employees and our communities safe – that remains our top priority.
If you are looking for a partner that values caring and enduring relationships, then let us take over the responsibility for all your Life Safety system inspections and service. Request more information about
fire protection compliance
today!