Does Your Fire Alarm Monitoring Need an Update?

FCC changes to older telephony technology could render your Fire Alarm Monitoring service obsolete.
Fire Alarm monitoring service is a crucial part of fire protection. Every second counts when detecting smoke or fire at your business. For many years, commercial companies have relied on Plain Old Telephone Service (POTS) for their fire alarm monitoring service. While most commercial companies have switched to VoIP or wireless for their voice telephony, many still depend on POTS lines for their fire alarm monitoring.
As the demand for new POTS lines was reduced, the decision to sunset the technology was made. In 2019, the FCC mandated that all U.S. POTS lines will need to be replaced with a viable alternative by August 2, 2022. While this will have a limited effect on voice technology, it has created an urgency within the Life Safety industry to ensure all commercial facilities have migrated to a wireless monitoring service.
How Do I Know if This Change Affects My Monitoring Service?
You have a few options to find out if your fire alarm monitoring technology runs on POTS lines or other obsolete technology. The best place to start is with your internal or third-party IT team that handles all your telephony needs. Additionally, a Life Safety expert can assess your fire alarm monitoring system to see if a migration is required. This can often be completed free of charge for the customer.
Most fire safety systems now rely on cellular networks (2G, 3G or 4G/LTE) to communicate between your fire alarm panel, the central monitoring center and local fire departments. But even 2G and 3G networks are currently being decommissioned in favor of 4G and 5G towers. Unless you have updated your fire alarm system recently, it's likely your system could be outdated and at risk of failure in the event of a fire.
How Does Fire Alarm Monitoring Work?
Fire Alarm Monitoring is the first line of defense in the event of a fire at your facility. Once a fire is detected in your building by a smoke alarm or a fire sprinkler system, the fire alarm will sound, alerting the current occupants of the building. Simultaneously, a signal is sent from the fire alarm panel that notifies the central monitoring station. From there, the fire department or appropriate first responders will be notified and sent to your location as quickly as possible. Below is a diagram showing every step of the process: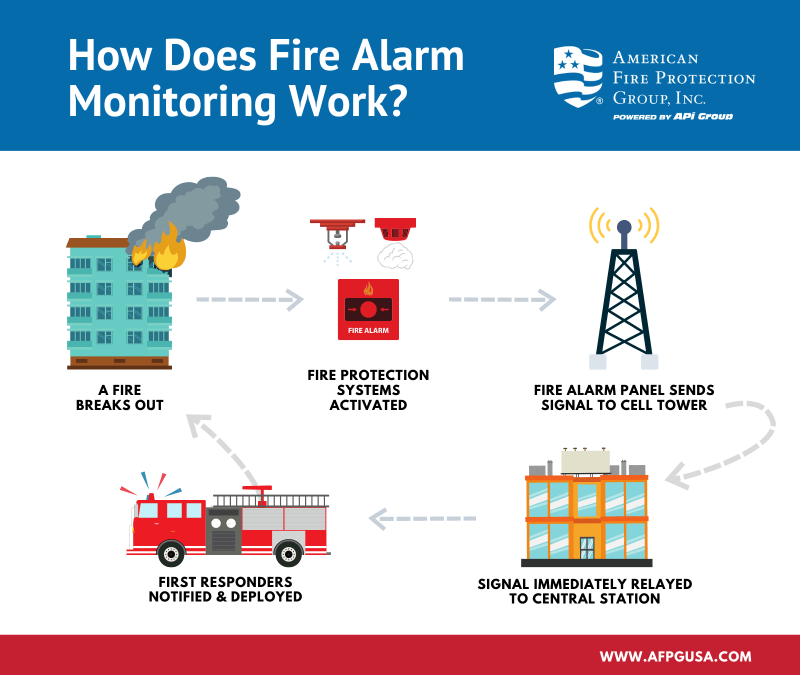 Benefits of Wireless Monitoring by AFPG
In addition to ensuring your monitoring technology is up to date, there are additional benefits to partnering with AFPG for monitoring services:
AFPG Fire Alarm monitoring gives 24/7 coverage of your fire alarm & sprinkler equipment activity.
We specialize in mesh radio or wireless monitoring to get signal to the central station as fast as possible.
Seamless integration and installation with your existing Life Safety systems.
Full scope fire protection – AFPG can also inspect & service all your fire alarm and fire sprinkler systems. Having one trusted partner for all your fire protection needs creates synergy for both parties and reduces the time & effort you spend putting fire alarm system(s) on test.
Just by having Fire Alarm Monitoring in place you could receive a discount on your liability insurance. We can help you find these savings, if available.
Need Additional Assistance?
AFPG cares deeply about Life Safety. Ensuring customers are protected by the latest technology is paramount. That is why AFPG offers a free monitoring consultation to ensure your monitoring service is ready for all upcoming changes. During this consultation we will assess the following:
Does your current monitoring service utilize a POTS system that is sunsetting in August 2022?
Does your current monitoring service utilize 2G or 3G technology that may also be sunsetting soon.
Are you currently in contract with another monitoring company? If so, we can investigate ways of getting you out of the contract, in order to make the necessary updates.
We'll also assess if you are taking full advantage of any insurance cost savings. Just by having fire alarm monitoring in place you could receive a discount on your liability insurance. AFPG's monitoring service is very affordable, and in some cases, you can actually save money just by signing up for monitoring and saving on insurance costs.
If you do decide to partner with AFPG for fire alarm monitoring, we will waive the installation cost of a new monitoring system, as well as any setup fees.
It's easy to forget about Life Safety and the protection of your commercial business. That is why finding the right partner is so critical. At AFPG, we strive to offer a simple and worry-free fire protection experience that allows our customers to focus on their business. If you are interested in a free monitoring upgrade quote please send us some basic information and one our monitoring experts will contact you at your convenience.