Celebrating 20 Successful Years at SAFE-an open letter from Steve Rians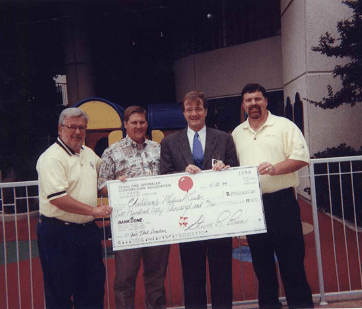 "All the leaves are brown…and the sky is gray…" (the Mommas & Papas, circa 1966). This could adequately describe the feelings of Steve Rians and Jeff Sosebee in April of 1993 as we sat in the bright and cheerful remodeled kitchen of the recent newlyweds (Jan and Jeff).
Fire Security Systems, Inc. had elected to close down the College Station and Dallas, Texas satellite offices not because of unprofitability, no, quite the contrary, but because the main office wanted us to focus on the large government projects that had become the source of the company's recent successes. FSS had become a mainstay in Bryan-College Station, establishing many dedicated customers in the local area as well as creating a great reputation the Dallas market. The College Station and Dallas (Tim Walsh) offices had been participating in many of these national and international projects for several years. We were all very instrumental in the atypical profitability of the behemoth sized contracts that many times took us to remote parts of the world (ask Tim about building a swimming pool in South Africa). For a full understanding of the successes, trials and tribulations of these projects, please read "The Adventures of Tim & Steve", a story filled with work and amusement through remote travels. Sort of like Lewis and Clark meets Laurel and Hardy.
The three of us were asked to shut down our local operations and concentrate on the "gold in them there hills". Well, the hills became Hawaii, Mexico, Puerto-Rico, Africa, and Thailand to name a few locations. Remember, "Everything that glitters is not gold" (Gatlin Brothers, circa 1979).
Traveling became tiring and our dedicated encumbered wives Lynn (Rians), Jan (Sosebee) and Donna (Walsh) were left to raise small children on their own resembling the old west,
"Sweetheart I'll see you after the cattle drive, sometime beyond the harvest". It was then that I had made the decision to stay closer to my family and the boys followed suit. We now were unemployed and needed to make the decision to move to a bigger city where the jobs were plentiful for guys like us.  Tim Walsh and I had already had the conversation that he was the best equipped to share his talents with a solid company in the DFW market. That left Jeff and I to ponder our professional futures.
The coffee cups sat idle (okay the Budweiser at 10:00 am) while the conversation grew serious. Could Jeff and I pull this off, could we actually create our own company? Money was very tight but the courage was plentiful. What I did recognize was that Jeff was a rare individual. His quiet demeanor often concealed the intelligent intensity of a West Texas Cowboy. No job was too difficult to handle and the days were long enough to take on any task as long as you didn't pay attention to the sunset.  I knew if I was to embark on this journey, I needed a partner that had the same intensity, the same dedication and the same respect for fear as me.
So, on a bright blue Texas morning sky in the spring of 1993, the SAFE, Inc. journey began!
With any new voyage you need a captain, a first mate and a crew to help you achieve the goals. Well, we really could not afford much of a crew, knowing we would be required to wear many hats and that no assignment was beneath us to take on. Still, we required help. Our office was a humble rented office trailer, Jeff on one end and me on the other.  We sat in the middle of a horse grazing field, compliments of the generosity of a good friend Craig Lewis and his father Jim with REC Industries, Inc. REC is still a great ally and a customer to boot! One important footnote is that when I began my fire sprinkler career in 1980 in Peoria, Illinois, Tim Walsh (my boss) hogged the only air conditioner in our jobsite trailer in his office. Sometimes he cracked the door a little when he saw my arms sticking to my T-square and sweating dripping on the onion skin drafting paper.  Jeff and I put the air conditioner in the center! One of the first investments for Jeff and I were two inexpensive fly swatters. We later upgraded to high velocity models, an investment that was for survival not for luxury.
Some of our design department had moved on to new opportunities, but we had a few who wanted to continue to be a part of this team and share in our dreams and visions.  Howard Weaver, age 70, who recently retired this year after 23 years of total service to FSS and SAFE, and a wonderful lady, Cathy Sadowski would become our design department while splitting their time between our trailer and their homes. We paid them on payroll, with CPA and tax expert Blocker Trant an old friend, serving as our payroll master. God rest your soul Blocker, I miss our conversations and your guidance.
Our field staff, well now that was interesting.  Steve Widders, a 23 year employee with FSS and SAFE, was our #1 fitter. (You can't find a more dedicated man.)  Steve was initially our only fitter too. His company truck was his dirt bike, running back and forth to our 1st project, Crystal Park Plaza a $65,000 contract that was entrusted to SAFE by another good friend and continued customer Jim Woods.  Jim was kind enough to recognize our early financial struggles and allowed us to draw early money and pay us the residual quickly.  Cash flow had begun! Steve was later upgraded to a 1984 Chevy diesel truck dubbed "Big Red". Another footnote, Big Red was stolen by a newly hired field employee who fled to Mexico. Hope it served him well, no hard feelings Ben!
Our staff slowly grew to include Jimmy Smith, John Savage, and John Yeatts, all FSS employees who gave their trust to our new endeavor SAFE, Inc. Ron Morris came shortly thereafter, trading his golf club building career for one of rest and relaxation in the fire sprinkler industry. The ship was ready to sail!
SAFE opened offices in Houston (1995), San Antonio (1997), Dallas (1998) and Albuquerque in 2000. Thanks to Tim Walsh and Jack Crouch (and the entire Crouch family!), we experienced growth and success that exceeded 15 million in total sales in 2000.
We have traveled many a highway together with many ups and downs. The sale of the company in 2001 to the AFPG was perhaps the greatest single challenge to the continuity of the group and integrity test for all of the employees. Whether or not this was a good decision for everyone involved will never be fully answered, maybe in the next life.  I hope and pray it was.
I believe that all of our dedicated employees will flourish and prosper with the new opportunities afforded to SAFE through the 2012 acquisition by the APi group. I trust in the leadership and integrity of our new AFPG leadership, as well as the solid financial footing that APi provides.
Lastly, I would be remiss if I did not thank the multitude of people that helped make that 1993 decision come to fruition. There are so many that have come and gone, all contributing is some way to the successes we have enjoyed, I can't possibly name them all. For those of you still here, toiling away as we now enter the 3rd decade, thank you. For those of you that have recently joined our group, I think you have chosen wisely. For those of you who have re-joined us over the past years, thanks for recognizing our commitment to our employees.
It is often said that if when you die you can fit the count of your best friends on one hand you are a lucky man. I am truly blessed. Thank you God for sending Tim Walsh into my life and giving me the opportunity for this career. Thank you God for bringing so many good hard working people to our company over the past two decades. Rick Smith, my first friend in BCS. Especially, thank you God for sending a young, blond-haired, hard-working, intelligent and good man Jeff Sosebee into my life who deserves everything good in life. I am a fortunate man. "Life is an ocean, love is a boat. In troubled waters it keeps us afloat When we started the voyage it was just me and you. Now gathered around us, we have our own crew" (Irish Tenors circa 1985).
"Twenty years, now where'd they go? Twenty years I don't know, I sit and I wonder sometimes where they have gone. Sometimes late at night when I am bathed in the fire light, the moon comes calling a ghostly white and I recall, I recall" (Bob Seger, circa 1986).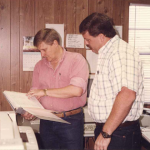 Steve Rians
Steven R. Rians
Regional Manager-SAFE
Texas License Number-SCR-G-1734091