AFPG Little Rock's Matt Reynolds Wins Autocall's Fire Alarm Sales Excellence Award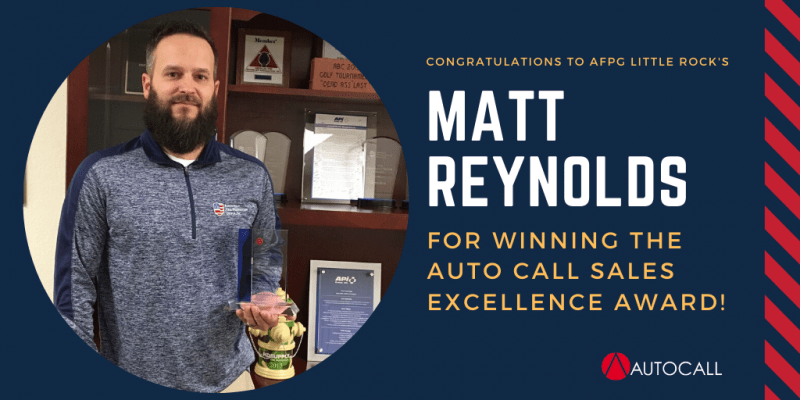 AutoCall recently awarded Matt Reynolds, AFPG Little Rock, with their Sales Excellence Award. This recognizes outstanding achievement in Fire Alarm service and equipment sales. Matt is an exemplary salesperson and has been in the construction industry since 1997. He joined the fire alarm industry in 2003 and has been with AFPG since 2016.
AutoCall is a trusted Fire Alarm partner of AFPG and their parent company, APi Group, specifically in the Greater Arkansas area. Autocall was founded in 1908 and was acquired as part of the Johnson Controls and Tyco merger in 2016. In 2019, Matt's Fire Alarm sales represented 37% of all APi Group fire alarm sales with Autocall nationwide.
Johnson Control's Global's Strategic Accounts Manager, Al Richards, had the following to say about Matt's achievement:
"It is a great honor of mine to present Matt with this sales excellence award for his deep commitment and success in promoting the Autocall fire alarm and life safety solutions in the Arkansas market for APi Group companies. His efforts in 2019 resulted in the highest sales in all of the APi Group businesses throughout the USA. That is an incredible accomplishment and I am deeply grateful and very proud of his efforts. Please accept this award and proudly display it inside the Little Rock branch. On behalf of the JCI leadership I am delighted to present this Sales Excellence award for 2019 and I look forward to continued success in 2020 and beyond."
For more information on AFPG Little Rock, please click here.
For more information on the Autocall please click here.