AFPG Houston Donates 750 Pounds of Food to Local PTSD Foundation for Military Veterans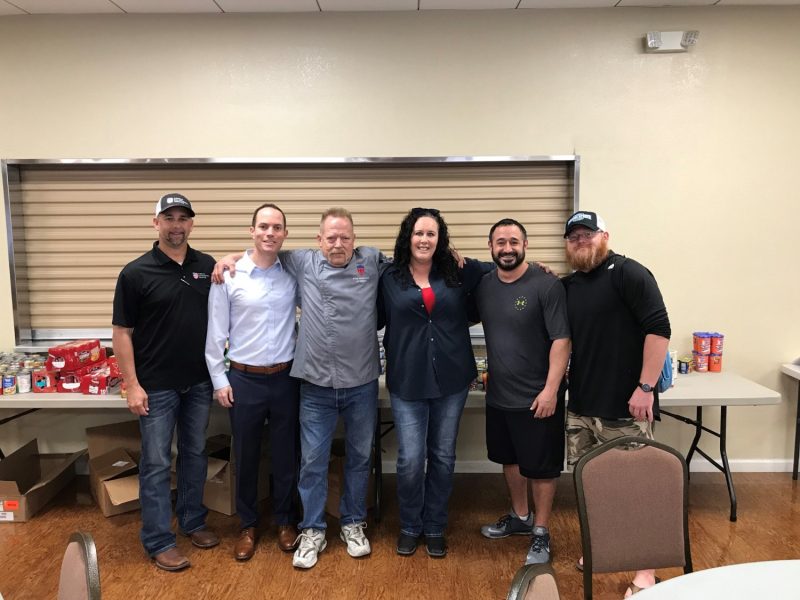 AFPG Houston recently made a generous donation to a very worthy cause. The AFPG Houston team was able to collect 750 pounds of canned goods and deliver them to Camp Hope in Houston. Camp Hope is part of the PTSD Foundation of America, which helps support military veterans who are struggling with PTSD.
Helping military veterans is a staple of AFPG's community outreach efforts. Many of AFPG's top leadership come from a military background and AFPG makes a strong effort to recruit and hire veterans for the Life Safety industry. Camp Hope's values of having caring and enduring relationships with others made them a perfect partner with AFPG.
David Maulsby, Executive Director of the PTSD Foundation for Military Veterans wrote the following letter to AFPG Houston, thanking them for their generous donation and efforts:
Dear American Fire Protection Group,
We would like to express our sincerest gratitude for your generous donation of the 750 pounds of canned goods to the PTSD Foundation of America and Camp Hope. We appreciate your willingness to support our military veterans and their families in their time of need.
Your donation will help provide for our military veterans and their families in a caring and positive environment. We are located in a quiet and safe setting whereby veterans and their immediate family members can find healing, help and hope while benefiting from intensive treatment for Post-Traumatic Stress.
Our staff understands that those who have served this Nation are still struggling with the invisible wounds of combat and we are working to assist our troops in putting the pieces of their lives back together. We use the traditional counseling tools and incorporate a faith-based approach to help combat the effects of Post-Traumatic Stress. Simultaneously staff members assist troops with a myriad of issues to include job placement, transportation and peer support groups integration.
Many tragic losses have crystallized the overwhelming need to assist our military personnel, veterans and their families regarding the unseen wounds of war. This gift will enable us to help warriors and their families that are coping with Post-Traumatic Stress Disorder.
No goods or services were provided in exchange for your contribution. Please retain this letter as proof of your donation for your federal taxes.
Thank you again for your kindness, caring and generosity.
Sincerely,
David Maulsby
Executive Director
PTSD Foundation of America – Camp Hope
AFPG is proud to partner with foundations like Camp Hope and the PTSD Foundation of America and we look forward to providing more love and support to military veterans in 2019. For more information on AFPG's community outreach program, click here.
For more information about Camp Hope, click here.